The grand prize in the Hacking AMR 2019 event that was arranged in Stockholm, Sweden, 13-15 December was won by team 'Mission Prescription'. The winning project presented an idea to support doctors in their prescribing behaviours by providing them with a tool to monitor their own prescribing in relation to the rest of the medical community. This type of intervention has the goal to reduce incorrect use of antibiotics.
The members in team 'Mission Prescription' were, from back row, left to right, in picture above: David Barber, Family Physician and researcher, Queen's University, Canada; Lennard Epping, PhD student, Robert Koch Institute, Germany; David Hinrichs, Data scientist, Robert Koch Institute, Germany; Sabrina Wong, Health researcher and nurse, Canada; Vendela Wiener, Public Health Agency of Sweden; Sumeet Tiwari, PhD student, Robert Koch Institute, Germany. Missing in picture is Ewan Gray, Researcher, University of Edinburgh, UK.
The People's choice award and Honourable Mention went to team 'The Waiting Game' who developed the concept for a game that can be played while a patient is in a doctor's waiting room. The goal of the game is to educate the patient on AMR, limiting requests for unnecessary antibiotics.
The aim of the Hacking AMR 2019 hackathon was to bring together scientists, designers, patients, developers, innovators, students and entrepreneurs to collaborate, dream up & create solutions to real-world problems to improve human, animal and environmental health and wellbeing with regards to Antimicrobial Resistance. During the hackathon 40 participants formed seven different teams and worked on diverse digital solutions to AMR.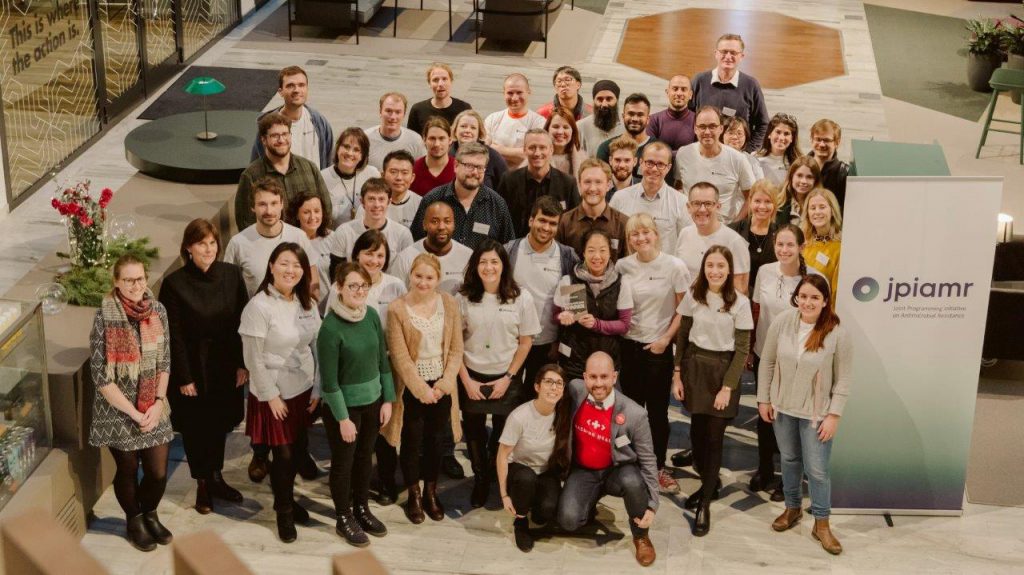 Hacking AMR 2019 is a Joint Programming Initiative on Antimicrobial Resistance – Virtual Research Institute (JPIAMR-VRI) activity organised by the Swedish Research Council, Institute of Infection and Immunity (III) of the Canadian Institutes of Health Research (CIHR), the Research Council of Norway, Uppsala Antibiotic Center (UAC), and the University of Edinburgh, Edinburgh Medical School. Hacking Health Foundation were consultants for Hacking AMR 2019.
Showreel about the workshop